Can you believe it? 1/3 of the year has passed and we are now in to the busy time of year with Proms and Graduations and gearing up for Summer. Speaking of gearing up, an exciting weekend in the digi-world is here! It is not only the BYOC for May release at the Lily Pad, but all across the internet we are celebrating iNSD (International Scrapbooking Day)!
Let's begin with the exciting BYOC for May. You are going to love the soft pastel shades of blue, greens, yellow, beige and grays (with a pop of pink thrown in just because I couldn't resist!!). I have 3 fun packs I know you will love.
Corked | Alpha
- includes upper case, lower case, numbers & punctuation. Filled and punched out letters [all seperate .pngs - 112 files in total] This is a fun alpha that you can adorn your pages with but also tack things to! Everyone loves cork and this alpha is no exception. The sky is the limit when it comes to the alpha!! (It brings back fond memories of buying a large cork letter to hang on my wall and pin all my favorite things to it!!!)

About | Elements
- a fun set of to go to elements in different styles and textures [42 unique items which include stamps, journal cards, word art, paint splatter, pencil, pencil sharpener, pencil shavings, brads, flower elements, ribbons, bows, retro typewriter sticker, staple, pen, yarn ball, string, clips, buttons, washi tape and more.] It is a great assortment for all of your pages!!
Forget Me Not | Papers
- 15 beautiful patterned papers and a matching set of 10 solids. You are going to love these papers. They have such wonderful textures, colors, patterns and designs. They blend beautifully together (and with other papers in your stash too) and stack so well underneath that favorite photo!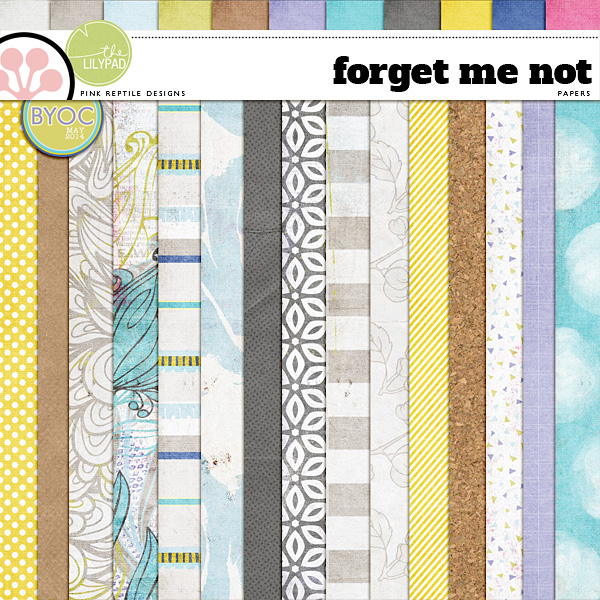 As you can see by the inspiration layouts the Pink Ladies have done, these packs are so versatile and the combination for your pages is endless!!
<insert Pink Ladies Layouts>
I hope you all were able to pick up the TLP designer goodies on the Facebook hop ( I'll be There for You - part 1) last week.  I'll be There for You - part 2 will be in the TLP store for iNSD, so you are not going to want to miss it! The Lily Pad also has a lot of fun planned for the iNSD weekend. Storewide sales and fun games. They have already started with the "Pick your Prize" forum. If you haven't entered yet, here is your chance... You can start with me here:
Pick your Prize- Pink Reptile Designs
Enjoy iNSD and happy scrapping!!!