It's a new month and time for a new challenge on Pink Reptile Designs Blog!
I hope you enjoyed March's Template blog challenge. The template challenges are so fun as everyone makes the template thier own, and what comes through is wonderful creativity!!! A BIG thank you goes out to
Em Stafrace of the Nifty Pixel
, who provided us with the fun March challenge sketch.  I received so many beautiful pages and I wanted to thank everyone that participated.  As always, you can find all the challenge entry pages on my Facebook page. The ones for March are right here <insert link> if you want to have a look. They were all so gorgeous that you really need to take a peek!
Each page submitted was so beautiful, and I am just so glad that I did not have to make a choice as it would have been very difficult! Instead, as I usually do, I let Mr. Random choose the winner of March's challenge. So let's find out who won the 10 dollar coupon and let's see what's up for this month!
<insert Mr. random>
<insert winner layout>
Congratulations ____________!! I have sent you a PM on your ____ account.
All other participants received their 25% discount coupons also via their gallery accounts. Please make sure you check your messages!
April's blog challenge is a pretty simple one. Spring for me is a refresh, a renewal, and with that it brings joy and happiness to me. I want to see what
Happiness is
to you! I have made
Happiness Word Art
for you to use to include on your layout.  If you had fun with the March's challenge you are going to LOVE April's!
PRIZES
:
The Random winner will receive a 10 dollar coupon to my TLP store. Everyone is a winner for the challenge, as all other participants receive a 25% discount coupon to my TLP store, so why not, right??!!!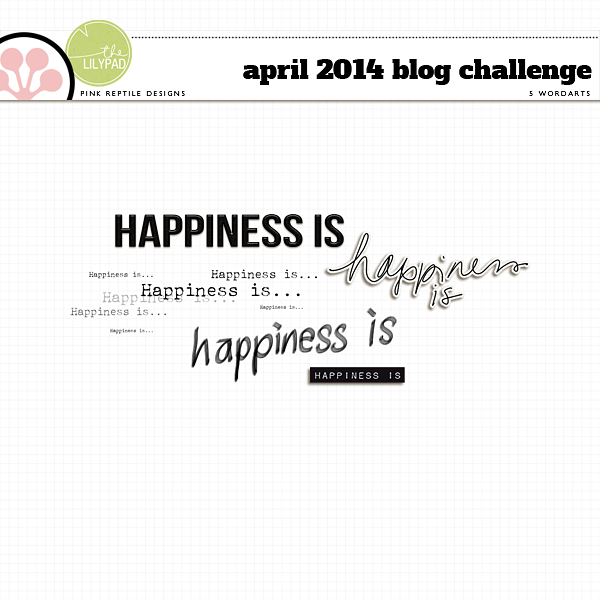 THE RULES
:
Use the
"Happiness is"
Word Art provided. Let your happiness shine through!!!.  ALSO you must use at least 75% of Pink Reptile Design products.
Once completed, just upload your page to one or all of your galleries and post a link to your layout in the comments section of this post before May 15th.
FACEBOOK
:
Off course there's always a little something for free under the Free Gift Tab at the Pink Reptile FB
INSPIRATION
:
To get you started, our Pink Ladies have made some pages to show you what happiness means to them:
<insert layouts>
Good Luck and let's "Get Happy" Scrapping!